Year 7 students at Walton had the chance to stretch their storytelling imaginations when author, Darren Simpson, visited the academy today (21 March 2019).
Darren, who hails from Nottingham, is the published author of children's book, Scavengers. This debut novel, which was influenced by his home city, is a unique coming-of-age story with an unforgettable secret at its heart. The book has gone on to be selected for the Summer Reading Challenge 2019.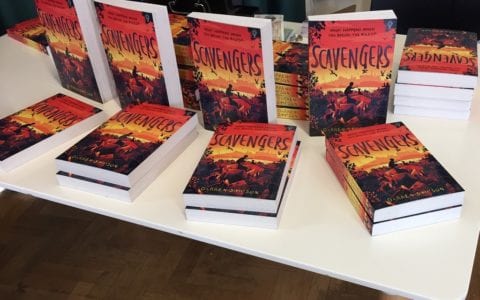 During his session at Walton, Darren shared the inspiration behind the characters and setting for his novel which he describes as a 'junkyard Jungle Book' and taught students how to see the world through the main protagonist Landfill's eyes.  The students were tasked with describing everyday or normal things like music and dancing to a person who had never before experienced them, followed by a Q&A session on how he became a published author.
Despite having written numerous adult short stories, along with The Dust on the Moth – a crowdfunded multimedia collaboration including music downloads, art and photography – this is Darren's first venture into children's books. When asked why he wanted to write for young readers, he explained: "With Scavengers I simply wrote the story I needed to tell. It resonated in a special way with younger readers, so I tried to make it as good for that group as I could. I'm so glad to have ended up writing for children; they're such imaginative, discerning and honest readers, and I can't wait to write more for them."
The author visit to Walton was facilitated by the Lincolnshire Children's Book Group. The organisation works with local schools by organising author visits and events, and also runs the National Book Award, which Walton students engage with each year by nominating their favourite reads.
Elisabeth Pearson, manager of Walton's Learning Resources Centre, said: "It has been wonderful to have Darren at the academy to work with our Year 7 students.  The session was thoroughly engaging and Darren gave the students some great advice on how to improve their writing and storytelling skills. Meeting authors and learning to delve into their own creative minds is really important in young people – I hope his session will inspire more young people to read and to put pen to paper to develop their own writing abilities."
Scavengers is published by Usborne Publishing.