Walton staff and students put on their running shoes and gathered on the starting blocks on Friday, 5 July to take part in a whole school 'Race for Life' in support of Cancer Research UK.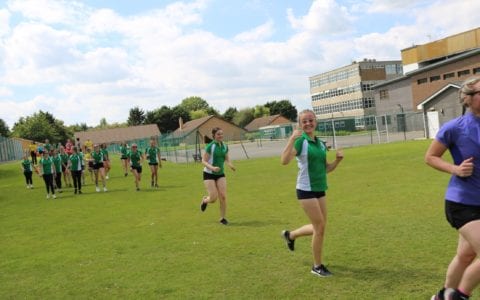 After competing in sports day in gruelling temperatures, over 600 of the academy's students and staff then headed to the start line to take part in the event, including Year 6 primary pupils who are due to start at Walton in September 2019.
Despite the hot conditions, all runners completed the five circuits of the course as part of the Race for Life.
Students sought sponsorship for the event, while the local community could also donate via the academy's online giving web page.  With all totals now calculated, the Walton team have raised £5,400 (including Gift Aid) for Cancer Research UK.
Head of Performance, Miss Sandell said: "We are delighted to have raised this amount of money for such an amazing cause, and are so thankful to everyone who supported us to help us raise vital funds for cancer research.
"It was incredible to see so many runners on the track that day and it really was a whole-school effort. Our students and staff came out in force to support this year's 'Race for Life' and we are immensely proud of them all."
Cancer Research UK is the student nominated charity of the year at Walton, as well as in all 14 other academies forming the wider Diverse Academies Learning Partnership.