Year 7 students were delighted to welcome Tom Palmer, a prolific and popular children's author, to the academy on 12 December 2022.
Tom's book Armistice Runner was gifted to all the academy's new year 7 students during their transition time in July, and they have enjoyed spending time investigating the book's themes in their English lessons since joining Walton Academy in September.
Tom draws from his own experiences in his writing, and immediately told our students that not only is he a huge football fan, but he was also not a keen reader in his teens. His own passion for reading started with football magazines, and his love of the sport inspired his early books. After writing Over the Line, his first historical-themed book based on the true story of a professional footballer who enlisted as a soldier during World War I, Tom began writing about other subject areas.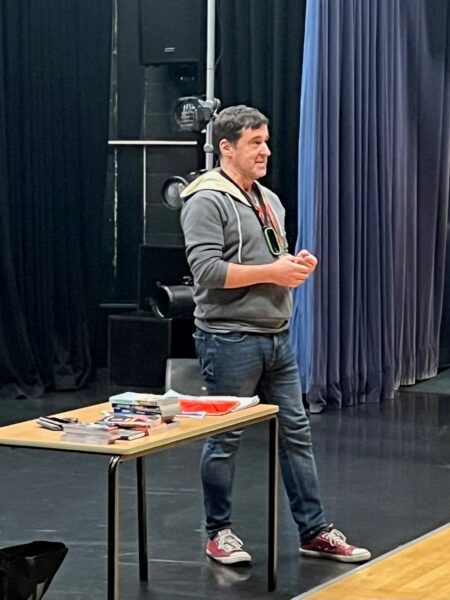 It is Tom's passion for fell running which inspired one of the main themes in Armistice Runner, which tells the story of a real-life sportsman who became a trench runner in the First World War, risking his life daily to deliver messages on the frontline in France.
We were fortunate that Tom had allowed plenty of time at the end of his talk for answering questions about his books and his career (and his lovely spaniel Finn, the inspiration for his D-Day Dog character), because so many students had great questions to ask. Some were so thought-provoking that Tom thought that they could perhaps inspire some future books.
Elisabeth Pearson, learning resources manager at the academy, said: "It was such a treat for our year 7 students to meet Tom and learn that someone who, like Tom himself as a teenager, might not find reading easy or enjoyable to begin with, can improve their reading skills by choosing to read what really appeals to them.
"Student feedback after Tom's talk was that it was thrilling to have met a 'real-life author', that Tom's relaxed approach (and football banter!) had appealed to the students, that his patient answering of the many individual students' questions had been appreciated and that everyone had enjoyed the session very much.
"What an inspirational start to a frosty Monday!"
A huge thank you to Tom for taking the time to visit us.