Secret societies, a sanctuary for kids, and an adrenaline-fuelled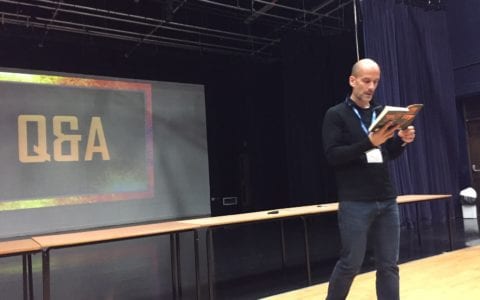 adventure were the order of the day for Year 7 Walton students as they heard from bestselling author, Simon Lelic, on 14 October 2019.
As part of the author visit, students learned more about Simon's children's books, The Haven and The Haven Revolution – the story of 13-year old Ollie Turner who is snatched from his bed and enters a kids-only secret society set on saving London from the ruthless 'Mad' Maddy Sikes.
During the interactive session, Walton students listened to an excerpt from The Haven, had a go at naming the fourth book in the series, and explored the talents they themselves could contribute as members of The Haven. They also had the opportunity to ask Simon questions about the books and what it takes to become an author.
As well as writing for children, Simon is a writer of crime and thriller novels for adults. He is winner of the Betty Trask Award, and was shortlisted for the CWA Dagger Awards and the Galaxy National Book Awards. He lives in Brighton with his wife and three children. Other than his family, reading is Simon's biggest passion.
Elisabeth Pearson, manager of Walton's Learning Resources Centre, said: "Author visits are incredibly important in inspiring children to pick up books, read more, and also to stretch their imaginations and go on to create their own stories. We are very grateful to Simon for delivering a thoroughly engaging session for our Year 7 students – they really enjoyed it."
The author visit to Walton was facilitated by the Lincolnshire Children's Book Group. The organisation works with local schools by organising author visits and events, and also runs the National Book Award, which Walton students engage with each year by nominating their favourite reads.
The Haven and The Haven Revolution are published by Hachette Children's Group.