Congratulations to year 13 student, Evie, who is the first student this year to send her application to UCAS. Evie hopes to study veterinary science at the University of Bristol next year. We are extremely proud of Evie and she certainly deserves a place on this competitive course at the popular Russell Group university.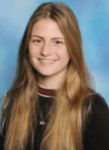 Evie has taken every opportunity to involve herself with the extensive enrichment opportunities provided here at Walton and has certainly sent a very competitive application off today. She completed the Futurelearn work experience which gave Evie the opportunity to explore the veterinary profession and in addition, Evie completed the Springpod virtual work experience:
"I learned about anatomy, physiology, nutrition, disease prevention and common conditions in pets, farm and zoo animals. This gave me a wide insight about animal husbandry and the diagnostic process."
Furthermore, Evie has also gained a wealth of relevant work experience at a local veterinary hospital and was able to observe a wide variety of cases including a tenoscopy surgery, scans and x-rays, administering a joint and nerve blocks, post-mortem and a stomach being scoped.
"Shadowing an equine physiotherapist, I saw how a range of chiropractic techniques relieved pain and whilst accompanying an equine dentist I learned how to extract a wolf's tooth and how to handle a horse that has never had its teeth worked on."
Evie is currently studying A Level biology, chemistry and geography. She is also studying hard towards her Edexcel Extended Project Qualification and is focusing on issues surrounding euthanasia which she hopes will broaden her knowledge on the ethics of decision making in complex cases.
Evie is very well suited to her chosen career in veterinary medicine as she has demonstrated her passion for the sciences with her inquisitive nature. She is creative and passionate, with an incredible drive to succeed. Evie has certainly built a strong foundation that leaves her ideally suited to progress and excel at this next level.
Well done Evie!