As we prepare to say farewell to our Principal, Mr Teece, on 17 July, here he reflects on his time at the academy and says thanks for the support of our amazing community of students, staff and parents/carers.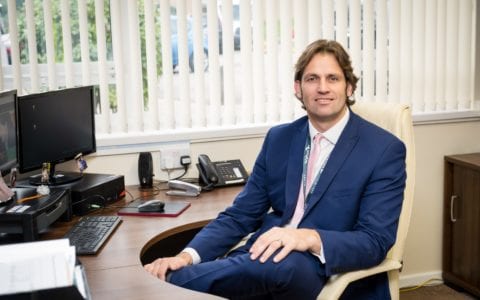 I joined Walton in 2015, when it was an all-girls school and was still a stand-alone academy.   It was a far cry from my past schools, having spent my teaching career in tough mixed city comprehensives – it was somewhat of a culture change working in a single sex setting and it took me a while to get used to the unique differences.
Moving to Walton was without doubt the best decision I ever made in my career and by far the best school I have ever worked in for so many reasons.  Walton is a truly unique and special community and I feel truly privileged to have served our students and their families.  I was appointed as vice principal responsible for outcomes and joined a largely new leadership team, with a strong vision to make Walton the best school it could possibly be. In the years that have since passed my role changed to head of school and most recently principal.
"Walton is a truly unique and special community and I feel truly privileged to have served our students and their families."
I think it would be fair to say that in that time as a team we have achieved a lot, with Walton seeing yearly increases in its outcomes, and our 2019 results being the best yet for the academy. Our Progress 8 score of 0.98 meant we became the highest achieving academy in Lincolnshire and placed us within the top 5% of all schools nationally – a phenomenal achievement by our students.  Perhaps most importantly behind this data, was our FFT scores that showed for every key group in school we had added value well above the national average.  I am exceptionally proud to have played a part in this success, as it has meant we have provided our students with the best possible chance of future success, which is what it's really all about.
We were also fortunate to have OFSTED validate our achievements as a community, where they commented on the outstanding progress that had been made since the previous inspection and the high quality of education provided, recommending a full inspection to allow conversion to 'outstanding'.
As with all roles there have been highs and lows, but I have been blessed by a phenomenal staff body and exceptional students who have brought a smile to my face every day. They are amazing.   In any role I think you strive to leave it in a better position than you found it, I hope I can say this is the case.
I will always remember the staff Christmas shows, especially the year we recreated the iconic scene from Dirty Dancing, the vast array of charity events, sports days and the energy of our young people.  I am really sad to leave the academy and wish it every success for the future.  I know it will continue to go from strength to strength under the exceptionally talented Mrs Leonard (a former Walton student) and it is destined for even more great things.
I wish all the students, past and present, that I have been fortunate to have met all the very best and hope they follow their passions and live life to the full.
The time is right professionally and personally for a new challenge and am looking forward to my new role as Headteacher at Brookvale Groby Learning Campus, a larger mixed comprehensive on the outskirts of Leicester.  The move will also allow me more time with my young family, which has been a key motive in my move.
Finally I would like to thank all the parents, carers and wider community for all the support they have shown me during my time at Walton.
Mr Teece