The Walton community fell silent today as students and staff took time to remember and reflect upon both those who selflessly gave their lives during the First World War, and the continuing impact of conflicts around the world.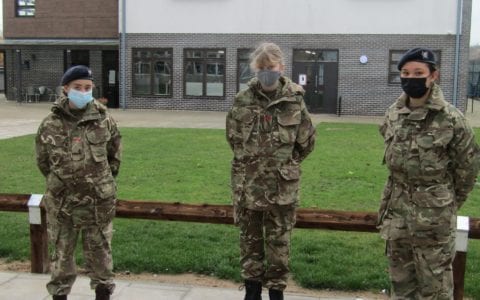 The two minute silence was a culmination of a week long programme of information shared with students within their form assemblies.   Mrs Sharp, Assistant Principal for Personal Development, shared her favourite poem with the school community, "In Flanders Fields" by John McCrae.   You can read the poignant words via this link https://www.poetryfoundation.org/poems/47380/in-flanders-fields.
Students were also invited to come to school in their cadet uniform and we are incredibly proud that our students choose to spend their spare time learning skills and camaraderie our armed forces are renowned for.
Photo: Year 9 students, Hanne, Anita and Yasmeen