2023 has seen a return to residential trips this year as part of our enrichment programme, and the academy is excited to be able to offer these valuable experiences to students once again.  We are delighted to share some staff and student accounts of recent residential trips.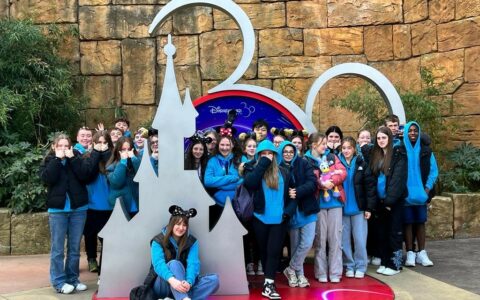 On Sunday 5 March, Miss Orum and a group of four other staff members took a group of 38 year 10 students to Maths Live at Disneyland Paris.  After arriving at the Explorers Hotel, students had some time to visit the Disney village, exploring the shops, buying souvenirs and experiencing the magic of Disney.
On Monday, the group attended the Maths Live conference, where some exciting speakers delivered content to inspire and motivate pupils. Speakers included Dr Matt Pritchard, Dr Josie Peters and Bobby Seagull.
Before travelling home, staff and students all experienced the magic of the Disney parks, taking in the rollercoasters, parades and spectacular fireworks.  Students had a wonderful experience and had the opportunity to put their maths and French skills to use.
During February half term, 43 students from years 8 to 13 had the most wonderful opportunity to experience a ski trip to Prato Nevoso in Italy.  One of those students, Isabelle from year 13, wrote the following review of her time there.
'This was my first and unfortunately last residential with Walton Academy and I can say it will definitely be one to remember. The emotions were high on the long coach journey there. Everyone was eager to get there and get on the slopes. The week flew by.  We were up early every day for breakfast, getting our ski boots on and heading out to the slopes before 9am. After a quick pasta dish for lunch we were back out on the slopes for another 2 hours. The evenings were never dull on the trip.  The activities arranged included a teachers vs sixth formers pool game, bowling, night skiing and an evening at the pizzeria where we had some delicious, Italian style pizzas! And we must not forget snow tubing with Mr Dean!
The skiing itself was an incredible experience.  This was my first time skiing I can say it's not easy and you have many falls.  However, the feeling when you learn how to control yourself and are able to ski down a red run after being sat on a deck chair with a Fanta in a ski bar, admiring the breath-taking views, is like no other. The teachers and instructors made the ski trip so special as everyone laughed together and experienced the falls together… quite literally! Students from different year groups were mixing with people that they otherwise may not have seen around school and it was so lovely to see everyone cheering each other on. After a very long and delayed journey home, and some much-needed sleep, I can't wait to go skiing again and I have made memories that I will treasure forever'.