Year 9 and 10 students at Walton had the opportunity to learn about the Jewish culture when they were visited by Ellie Dean on Tuesday, 14 January 2020.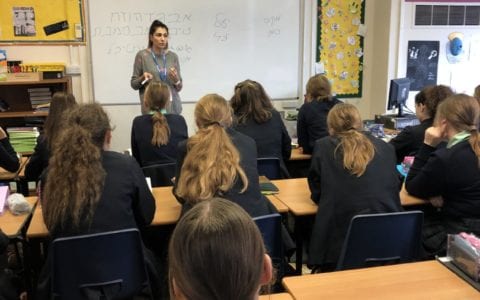 Ellie, who is the wife of a Walton teacher, gave up her time to speak to the students about Judaism from a cultural perspective, including her own experiences of Judaism and her time living in Israel when she was younger.
She recounted her experiences of being in the army in Israel and spoke about mandatory conscription. During this time, she became an army photographer and this led her to pursuing a long term career in photography.
As part of the visit, Ellie gave the GCSE Religious Studies students a few lessons in the Hebrew alphabet and brought in samples of Jewish food for them taste.
Walton teacher Sherrie Hopkins said: "Ellie has done a Q&A session for sixth formers in the past and we were delighted to welcome her back to talk to other year groups.  Although the cultural/secular Jewish perspective does not feature highly on the GCSE specification, I think it is really important for our students to get a holistic understanding of different cultures and not just an understanding of exam specifications.
"All of the current training surrounding delivering a broad curriculum suggests that we shouldn't be doing stand-alone lessons on diversity, race, LGBTQ+. Instead, we should be teaching about diversity in all areas of school life, celebrating diversity within our own staff families and within our own community."