Primary school pupils joined us for a Terrific Turner masterclass on Friday, 18 January, to experience some of the specialist teaching on offer at Walton.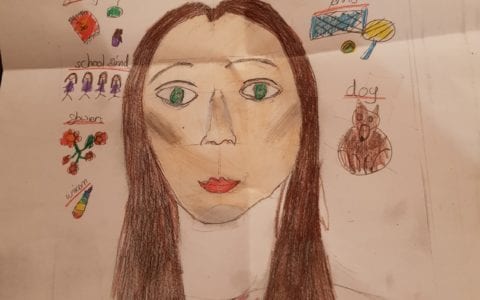 Students developed their drawing skills in the morning, learning the correct proportions to draw a portrait and then posing in mirrors and drawing self-portraits.
The class then moved on to explore new painting techniques, including spraying, dragging and sgraffito. This was inspired by J.M.W Turner, who was well known for his messy and expressive style. Students painted stormy seas in the style of the artist with a great deal of passion!
The afternoon was then spent re-visiting and developing the self-portraits created in the morning. Students viewed the work of Martin O'Neill, graphic artist and illustrator, who creates bright and colourful handmade collages out of portraits, weaving illustrations and photography around the head and hair that could describe the character of the person within the portrait.
Students collected photographs from magazines that they felt showed their identity and character and combined them with their earlier self-portraits.
To find out more about future masterclasses at Walton please contact Mrs Dolby: kdolby@walton-ac.org.uk