In a poignant and respectful tribute, Walton Academy came together on Friday 10 November to mark Armistice Day, paying homage to the sacrifices of those who served in times of war.
The lead-up to the event was marked by a symbolic gesture as poppies, representing remembrance and support for the service and sacrifice of our Armed Forces, veterans and their families, were made available for purchase across the academy. Dedicated student leaders circulated among their peers during unstructured times, ensuring that every member of the Walton community had the opportunity to participate in this meaningful tradition.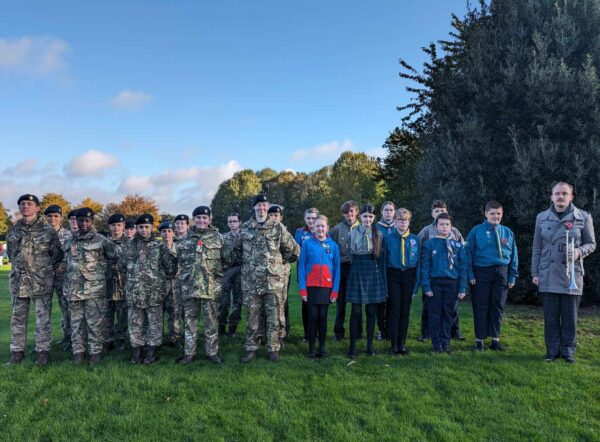 A call to unity echoed through the academy as students  representing local cadet forces and other community organisations such as scouts and guides were encouraged to attend in their distinctive uniforms. This collective display became a powerful symbol of solidarity, reflecting the diverse and committed community within Walton Academy.
The service of remembrance commenced with a moving recitation, the Exhortation, led by Principal Jess Leonard. Following this, the haunting notes of The Last Post, played by David Warman, filled the air. The academy then observed two minutes of silence, a profound moment of reflection for the entire community. The silence was broken by the Reveille, a resonant call signifying the end of the moment of reflection.
This Armistice Day event at Walton Academy was not just a ceremony; it was a day of unity, remembrance, and reflection. The deliberate actions of wearing cadet uniforms, observing moments of silence, and participating in a collective service highlighted the academy's commitment to honouring the past and ensuring that the sacrifices of those who served are never forgotten.