Come and support Walton Academy's emerging artists on their journey to musical greatness! Join us for a night of incredible talent and a celebration of music's transformative power. Don't miss the opportunity to support young, up-and-coming musicians right here in Grantham, where the Evolve Project lights the way for the musicians of tomorrow.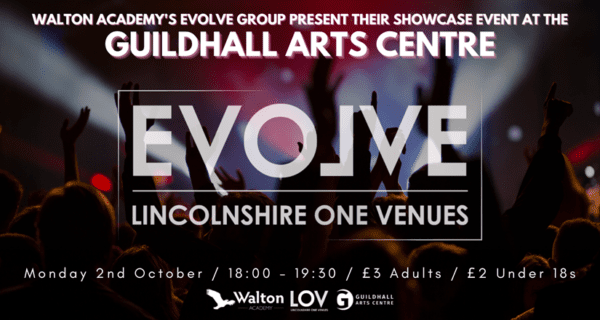 In partnership with Walton Academy and Lincolnshire One Venues, the Evolve Project is nurturing the musical talents of students. This initiative empowers Walton Academy's students, offering them invaluable hands-on experience in organising live music events while fostering creativity, teamwork, and dedication.
On Monday 2 October, the Guildhall Theatre at the Grantham Guildhall Arts Centre will host the Walton Academy's Evolve Group Showcase. Students have prepared tirelessly, showcasing their diverse musical talents. What sets this event apart is that students work closely with teachers, Guildhall Theatre staff, and Lincolnshire One Venue team members, gaining insights into every facet of the music industry.
For more details and to book your ticket, please visit https://bit.ly/3tdDqep