On 13 March 2019, Walton student Zen picked up a Rotary Club Children of Courage Award at a ceremony in Grantham celebrating inspirational young people.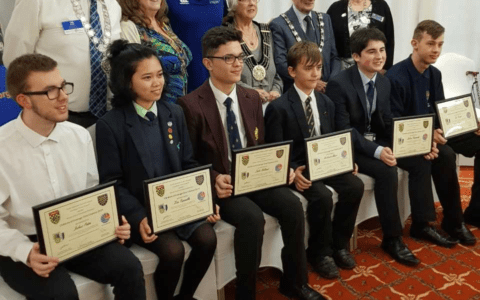 Zen was nominated by Mrs Dolby (Head of House) for overcoming adversity and demonstrating a huge amount of resilience in her GCSE subjects, whilst battling a life threatening illness.
Following lunch and addresses by event organiser Marion Strange and club president Libby Simpson, the ceremony began, with each youngster receiving a certificate, award and a pen created especially for the event by Trevor Tillison. The gifts were present by Mayor of Grantham Lynda Coutts and chairman of South Kesteven District Council George Chivers.
Mrs Dolby said: "Zen has always been a delightful student. Her polite nature and approachable manner have enabled her to make a huge group of supportive friends who have all helped her through the tough times."
Now in Year 11, Zen is a very creative student, taking both art and textiles. Taking such subjects is highly challenging in terms of the time needing to be committed to meeting the ever, ongoing deadlines of projects. Not only does she manage it but whatever she does, it is with flair.
Zen, 16, has battled with an aggressive form of cancer but bounced back and is doing well in school. She said: "It's been really good to get an award."