In March 2020, Walton student Grace Moore received a 'Child of Courage' award at Grantham Kesteven Rotary Club's annual awards.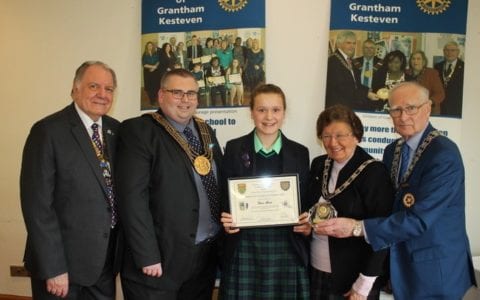 Below, Mrs Dolby (Assistant Principal) outlines Grace's story:
"Grace is currently in Year 8 but with her mature attitude you would actually believe she was a lot older and in comparison to others of her age, she outshines them all. It is with great pleasure that I share with you all the amazing story of Grace.
Back in June 2016, following blood tests, Grace and her family were woken with panicked banging at the door from medical professionals instructing parents that Grace needed to go straight to hospital due to the results. Grace was diagnosed with leukaemia. Following this, Grace did not go home for a number of months, missing school, holidays and missing the general things that children of that age do.
During her time in hospital, treatment was not plane sailing. Grace developed sepsis and fungi on the lungs which caused a few complications along the way. Along with this, Grace also lost a tremendous amount of weight which also caused a concern in itself.
However, Grace was a fighter and developed the inner strength to fight against the unpredictable illnesses forced upon her and following two years and two months, including eight months of intensive chemotherapy, Grace's journey was looking positive. Albeit there were a few setbacks resulting in overnight stays at hospital. There was eventually light at the end of the tunnel and she was getting stronger and stronger by the day.
Thankfully, Grace's experience with chemotherapy ended in August 2018, just a week before starting Walton. Many students are unaware of the struggles that Grace has had to endure, and that is down to her sheer commitment and strength and an attitude that will challenge any illness that comes her way.
Grace is such a kind soul and will do anything she can to help other people. A clear example of this is her fundraising. Whilst Grace was in hospital she spent lots of time with other children experiencing the same as her, developing some lifelong friendships. One of which with a young boy whose treatments had not been as successful as Grace's resulting in him spend more time in hospital. Grace then took it upon herself to contact me and ask if she was able to do some fundraising in school to raise money, not only for the little boy but also for his family. Of course, who could refuse that? Grace then went into each and every house assembly each day to share some of her story and inform the students of her plans – bearing in mind Grace was in Year 7 and she was speaking to students a lot older than herself.
The event was a huge success and Grace raised £250 in just one day – half of the money went to the young boy and the other half was given to his parents to help towards fuel costs. This is a truly honourable and inspirational act by Grace which has paid dividends to her ever growing confidence. This is just one of many heart-warming things that Grace does one a daily basis."
All at Walton are extremely proud of this amazing young lady.